Activities
AUTS2 gene, which is related to a variety of psychiatric disorders regulates synapse homeostasis
Jul 2, 2020
AUTS2 gene, which is related to a variety of psychiatric disorders regulates synapse homeostasis
A research group led by Drs. Kei Hori and Mikio Hoshino at NCNP has shown that the AUTS2 gene, which is related to a variety of psychiatric disorders, is involved in regulation of synapse homeostasis.
The AUTS2 gene has been found to be widely associated with various psychiatric disorders such as autism spectrum disorders, schizophrenia, ADHD, and drug addiction. The AUTS2 protein encoded by this gene was shown to play a diverse role in the fetal and infant brain, controlling the morphology and movement of neurons and regulating the expression of various genes involved in brain development. On the other hand, AUTS2 is also present in the mature adult brain, but little was known about its function, and how abnormalities in this gene cause various psychiatric disorders.
The research group has focused on the synapses (connections between neurons) that are actively generated and pruned during the development of the brain after birth, and has revealed a new role for AUTS2 in synapses. It is believed that a good balance of excitatory and inhibitory synapses is essential for healthy mental activity. We found that AUTS2 suppresses the formation of new excitatory synapses and promotes their pruning, and consequently restricts the number of excitatory synapses from increasing too much. In contrast, inhibitory synapases are not controlled by this gene. Thereofore, if AUTS2 is lost, the number of excitatory synapses increases, but inhibitory synapses remain the same, which results in the excitatory/inhibitory imbalance. The findings suggest that epilepsy and various psychiatric disorders may result from the disruption of the excitatory/inhibitory synaptic balance in the brain in patients with mutations in the AUTS2 gene. These findings not only reveal the mechanisms that control the number of synapses, the basic unit of neural connections, but also provide insight into the pathogenesis of various psychiatric disorders and epilepsy.
This is a collaborative study supported by Dr. Yasuhiro Go (A03) and Dr. Kota Sugano (A02).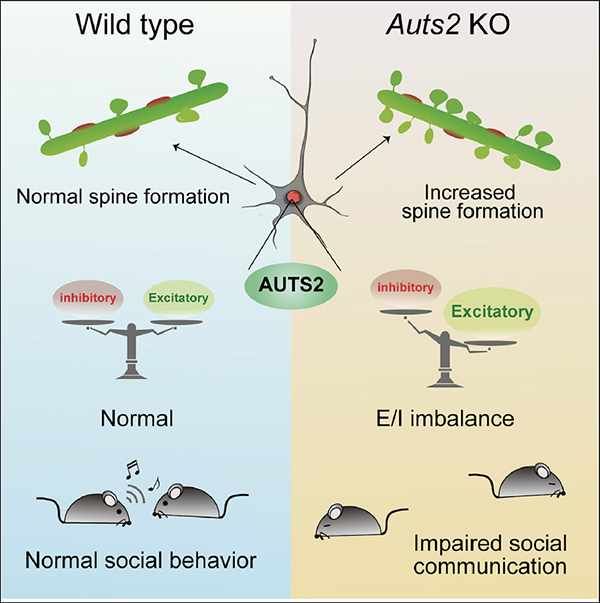 Publication
Hori K, Yamashiro K, Nagai T, Shan W, Egusa SF, Shimaoka K, Kuniishi H, Sekiguchi M, Go Y, Tatsumoto S, Yamada M, Shiraishi R, Kanno K, Miyashita S, Sakamoto A, Abe M, Sakimura K, Sone M, Sohya K, Kunugi H, Wada K, Yamada M, Yamada K, Hoshino M: AUTS2 regulation of synapses for proper synaptic inputs and social communication. iScience, 2020 May 18;23(6):101183.